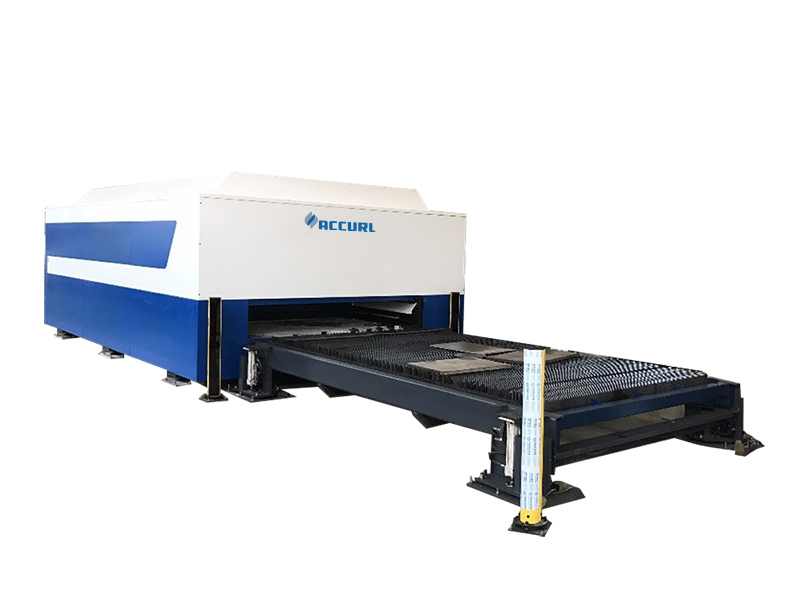 Greita išsami informacija
---
Taikymas: Pjovimas lazeriu
Būklė: Nauja
Lazerio tipas: pluošto lazeris
Taikoma medžiaga: metalas
Pjovimo storis: 0-30mm
Pjovimo plotas: 1500 * 3000mm
Pjovimo greitis: 35m / min
CNC arba ne: Taip
Aušinimo režimas: vandens aušinimas
Valdymo programinė įranga: "Bodor Pro"
Palaikomas grafinis formatas: AI, DXF, PLT
Sertifikavimas: CE, ISO, SGS, FDA, BV, TUV
Teikiamos garantinio aptarnavimo paslaugos: inžinieriai gali aptarnauti mašinas užsienyje
Lazerio galia: 500W / 1000W / 1500W / 2000W / 3000W / 4000W
Raktinis žodis: lazerinis pjaustytuvas
Lazerio šaltinis: IPG / MAX
Garantija: 3 metai
Dydis: 9950 * 3050 * 2200mm
Svoris: 11000Kg
Darbinis plotas: 1500 * 3000mm
Visą gyvenimą: daugiau nei 20 metų
Aušinimas: aušinimas vandeniu
Nepertraukiamas darbo laikas: 24 valandos
Prekės aprašymas
---
1. pilna apsaugine danga
Environment friendly and Healthy Full closed protection improves using security; laser protection glass isolates laser radiation to human beings; automatic collection system of smokes and dusts is environment friendly; intelligent monitoring system reduces accident rate, making us enjoy beauty and health in cutting process.
2. dviejų automatinių mainų platformų sistema 
taupantis laiką ir mažinantis pastangas
Greitas keitimasis dviem platformomis labai pagerina darbo efektyvumą. Pavarų dėžės ir krumpliaračio perdavimo sistema yra tvirtesnė ir tikslesnė, todėl sutaupoma šėrimo laiko, todėl operacija yra efektyvesnė.
3. Išvaizdos dizainas
Surrounded by baking paint silver decoration,coordinated with diamond cutting tempered glass and alpine white sheet metal design, the international design of the machine is accepted by global consumer groups. The workplace is neat, orderly and space-saving.
4. cast iron bed
Integrally formed, reject splicingUsing flake graphite cast iron, the lowest tensile strength of which is 200MPa. High carbon content, high compressive strength and high hardness. Strong shock absorption and wear resistance. Good casting and cutting performance. Excellent lubricity, corrosion resistance and dimensional stability. Low thermal sensitivity and bed gap sensitivity reduce the loss of equipment in using, so the machine accuracy could maintain for a long time, and no deformation in a life cycle.
5. Automatinio fokusavimo lazerio galvutė
Atlaisvinkite rankas, mėgaukitės automatiniu fokusavimu
(1) Auto focusApplicable to various focal lengths, which are controlled by machine tool control system. Focal point will be automatically adjusted in cutting process to achieve the best cutting effect of different thicknesses sheets metal.
(2) FreeFocal length is controlled by operating system. We don't need to do manual regulation, which effectively avoids errors or faults caused by manual operation.
(3) FastIt can automatically adjust the most appropriate focal points in working process, greatly improving cutting speed;When replacing different materials or different thicknesses sheet, manual focus laser head needs to adjust focal length manually, very inefficient; auto focus laser head can read system storage parameters automatically, very efficient;
(4) AccuracyIncreasing perforation focus length, separately setting perforation focal length and cutting focal length, enhance cutting accuracy.
(5) DurableBuilt-in double water-cooling structures can ensure constant temperature of collimating and focusing components, avoid lenses overheating and extend service life of lenses.Increasing collimation protective lens and focus protective lens, carefully protect key components.
6.Operating system display
Elegant appearance curveThe first one to use UI design in the world which lets display respond to processing table, making processing more intuitive. Elegant curves precisely fit machine body. Strong waterproof breathable system creates the best space, making operation more convenient. Diamond cutting process and HD plasma tempered glass make screen more exquisite and comfortable to use.
7.Cast aluminum crossbeam
Integral steel mold pressure casting, light, flexible and efficientAfter artificial aging, solution treatment and finishing, crossbeam owns good integrity, rigidity, surface quality, toughness and ductility. Aluminum alloy's metal characteristics of light weight and strong rigidity are helpful to high speed movement in processing, and high flexibility is beneficial to high-speed cutting of various graphics based on high accuracy. Light crossbeam can give equipment a high operation speed, improving processing efficiency to ensure processing quality.
8. Bodor Por 2.0
Independent R&D operating system, perfectly combines high efficiency and simplicity with inclusivenessThe operating system can realize intelligent layout of graphics cutting and support the import of multiple graphics, optimizing cutting orders automatically, searching edges smartly and automatic positioning. Control system adopts the best logic programming and software interaction, provides stunning operation experience, effectively enhancing the utilization of sheet metal and reducing waste. Simple and fast operation system, efficient and accurate cutting instructions, effectively improve the user experience.
9. functions
The heavy bed makes the equipment more stable in working, the light crossbeam makes it work faster; perfect industrial design is more in line with man-machine engineering; high quality electrical software control system gives equipment higher cutting precision. The machine owns more comfortable operation, more stable performance, more durable quality, higher cutting efficiency and wider application scope.Auxiliary feeding mechanismIntelligent travel protectionAutomatic lubrication systemGlobal real-time feedbackA new generation of safety following moduleIntelligent alarm systemAuxiliary gas low pressure alarm function
| | |
| --- | --- |
| Darbinis dydis | 1500 * 3000mm |
| Lazerio galia | 1000/1500/2000/3000 / 4000w |
| Mašinos dydis | 9950 * 3050 * 2200mm |
| Svoris | 11000 kg |
| Maksimalus judėjimo greitis | 100m / min |
| Maksimalus pjovimo greitis | 35m / min |
| Min. Linijos plotis | 0,1 mm |
| Pjovimo gylis | 0,2-6mm |
| Aušinimo būdas | Vandens aušinimas |
| Važiavimo ir transmisijos būdas | Importuotas servo variklis |
| Nepertraukiamas darbo laikas | 24 valandos |
| Padėties nustatymo tikslumas | 0,03mm |
| Repozicijos tikslumas | 0,02mm |
Informacija:
---
WIFI wireless control
To provide speedy service, we add WIFI function for our technician operates troubleshooting and ajustsd parameters remotely. Checking laser source parameters to analysis failure causesChecking cutting parameters to analysis and adjust new parameters
Bodor Genius laser head
Taikomas įvairiems židinio nuotoliams, kuriuos kontroliuoja staklių valdymo sistema. Židinio taškas bus automatiškai sureguliuojamas pjovimo metu, kad būtų pasiektas geriausias skirtingo storio metalo lakštų pjovimo efektas.
Japonijos "Yaskawa Servo Motor"
Using the SoMove setup software: The SoMove setup software could do the control loop configuration. optimization,and maintenance, for the Lexium Easy 26 servo drives in automatic or manual mode by oscilloscope function,as same as other Schneider Electric drives.Equipped with SoMove software for easy setup and adjusting Driver Printed circuit board with coating protection,improve the reliability in the polluted environment
Prancūzijos "Schneider" elektroninis komponentas
Grandinės apsauga nuo trumpojo jungimo srovių, grandinės apsauga nuo perkrovos srovių, pertraukimas ir pramoninis atjungimas pagal standartus IEC / EN 60947–2. Atsparumas viršįtampiui, aukštas veikimo apribojimas, greitas uždarymas, nepriklausomai nuo perjungimo mygtuko paspaudimo greičio.
Japonijos SMC pneumatiniai komponentai
Laipsniškas oro slėgio valdymas, proporcingas elektros signalui. Serijinių ryšių specifikacijos. Kompaktiškas / lengvas (integruotos ryšio dalys).
Lazerinis šaltinis
Optical fiber transmission, don't need to adjust the laser path. IPG, Maxphotonics fiber source. Wavelength range:1070~1090nm Beam quality TEM00 (M2<1.8) Forced air/Water cooling More than 100000 hours work-life of pumped
Auto Lubrication System
Electrical lubrication is a kind of Gear pump with rational construction , great performance , complete functions. Controlled by main machine system which could inspect the liquid level of the oil tank, the pressure of oil transportation , and setting the lubrication periodicity. Effective avoid rust and ensure the cutting accuracy .
Taikymo medžiaga:
---
It is suitable for cutting carbon steel, stainless steel, aluminum, copper and alloy metal materials2.Application Industries: The equipment meets the parts processing requirements of most industries, working accuracy is stable. At present, laser cutting machines have been widely used in electronics, electrical, mechanical hardware, new energy lithium, packaging, solar, LED, automotive and other industries.
Mūsų paslaugos
---
Pre-sale-service
*According to customers demands, provide relevant technical guidance.
*Assist customers to design and make laser cuttng solutions considering technical feasibility.
*Provide equipment demonstration for customers to investigate, make samples and do test etc.
Aptarnavimas po pardavimo
*Bodor Laser provide 3 years warranty for all laser machines.
*Company can provide 24 hours service whenever customers have any questions or requests.
*Engineers are available to service customers oversers.
Packing and shipping
---
1)Packaging:Whole film packaging machine; anti-collision package edge; fumigation-free plywood wooden box and pallets with iron binding belt.
2)Shipping:We cooperate with SINOTRANS company whose experience in the ocean transportation will guarantee your machine safety. We also provide train transport, especially to Russia, Ukraine and other inland countries.
3)Payment:We support T/T, L/C, VISA, Mastercard payment terms with Alibaba Trade Assurance.
DUK
---
Q1: I knew nothing about this machine, what kind of machine i should choose?
Very easy to choose. Just tell us what you want to do by using CNC laser machine, then let us give you perfect solutions and suggestions.
Q2: When I got this machine, but I don't know how to use it. What should I do?
We will send video and English manual with the machine. If you still have some doubts, we can talk by telephone or skype and e-mail.
Q3: If some problems happen to this machine during warranty period, what should I do?
We will supply free parts during machine warranty period if machine have some problems. While we also supply free life long after-sales service. So any doubts, just let us know, we will give you solutions.
Q4: Before sending me an inquiry on our fiber laser, it is better for you to provide me the following information
1)What materials do you cut? Carbon steel? Stainless steel? Aluminum? Brass? Or others?
2)What thickness of the materials?
3)What size of the materials?
We will suggest you the most suitable model according to your working requirements.